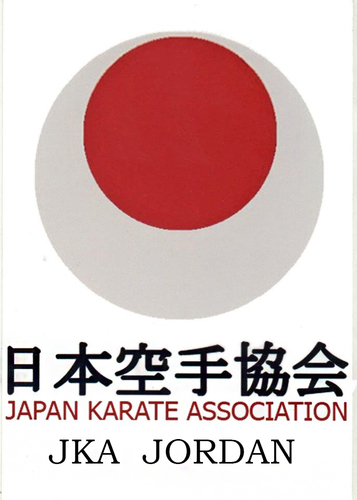 JAPAN KARATE ASSOCIATION - ( JKA )JORDAN
Established in January 14th 1985 in Amman Jordan .
Register in Jordan ( NPO ) as a Non Profit Organization Style Shotokan Karate Do. Tradition and Modern Karate Do.
SENSIE EMAD KHALIL
Born in February 9th 1957 in the City of Nablus Palestine.
Started practicing the art of karate Do at an early age in 1973 until this moment practices karate Do at least five days a week.
In 1975 trained by sensei Glean Haslam from the karate Union of Great Britain who was the awarded the British Championship twice and the European in 1973.
In 1978 Gained the First Black Belt (shodan) in London England from Shihan K. Enoada (JKA)
In 1980 Trained with Shihan Masatoshi Nakayama. In Honbu Dojo Ebisu and Hoitsugan Dojo Tokyo Japan.
In 1980 Traind with Shihan Keigo Abe
In 1982 started in Honbu Dojo Ebisu Tokyo Special Training Courses for Instructors.
In1984 Graduated from Instructors Course of the Japan karate Association (JKA) Ebisu Tokyo.
In 1985 Became karate Instructor for Dubai police Force.
In1988Trained with Shihan Hiroshi Iwabuchi in JKA Honbu Dojo Osaka Japan
In 1990 Became karate Instructor for the Royal Family of Dubai UAE.
In 1994 Became Chief Instructor of Japan Karate Association (JKA )Jordan
I n1995 Trained with ShihanTakayuki Mikami Chief Instructor of JKA Southern Region Louisiana U S A.
In 1996 Became President and Chief of Technical Committee of National Karate Centre. Jordan (NKC)
In 1997 Became President of Martial Arts Federation for World Peace-Jordan
In 2007 Becam Representative of International Martail Arts Federation(IMAF) Jordan
In 2008 Became Representative of(IBSSA)(ISF) International Sport Federation for Middle East .
In 2008 Became Representative of Japan Karate Association(JKA) Jordan
SHIHAN TAKAYUKI MIKAMI
January 11, 2005
Dear Mr. Emad Khalil and JKA of Jordan,
I am very happy to know that you are training and working very hard and encouraging everyone in JKA of Jordan to train and work very hard too.
Karate is developing and spreading very fast all over the world as a competitive sport. But it is very important to understand that competition is only one aspect of the total training of Martial Arts. Martial Arts were established for the development and training of the Samurai. The Samurai worked hard to protect his family, and if the Samurai did not do that they could die. Training to always hit the target was part of this. If he missed the target, he could not protect his family. But the character development of the Samurai was also very important. The way that he conducted himself and lived his daily life was also very important.
The development of good character is the main and most important part of training in the Martial Arts. Training for self-improvement, studying how to develop more efficiency and proper application of the use of energy is also very important. This comes through hard training and sweat.
Also, Karate training should be done according to each individual's condition to make themselves improve. The method of self-improvement is also learning from experience that you can use in daily life.
Many people think that Karate is only for young people, but this is wrong. Karate is for everyone, regardless of age to have as a lifetime of disciplined training.
I hope that everyone in JKA of Jordan is in good health, training hard and working hard to make JKA of Jordan a success.
Sincerely, yours
Takayuki Mikami
JKA U S A
SHIHAN TAKAYUKI MIKAMI